Pinterest Downloader
Download Pinterest video, Image and Gif online
Generating download links...
How to use Pinterest downloader?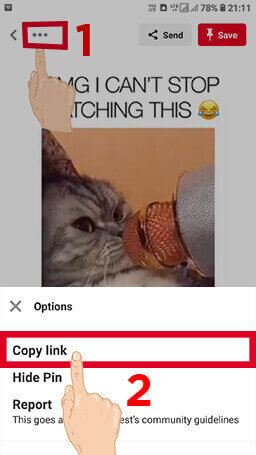 #

1. Copy Video URL

Copy the Pinterest video URL which you want to save.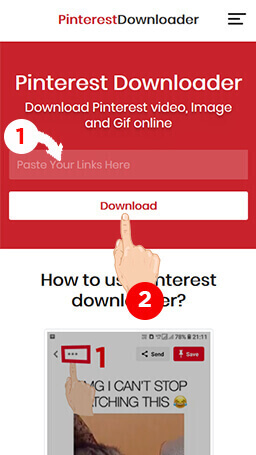 #

2. Paste The Links

Paste the URL of the Pinterest video or image you wish to download, then click the download button.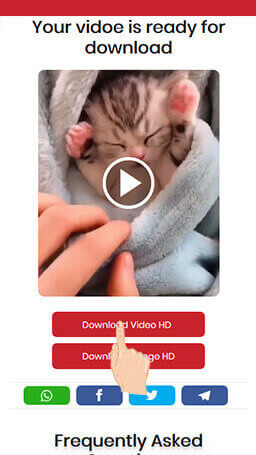 #

3. Download Video

Now just click the download button and your download will begin.
Pinterest Downloader
Pinterest Downloader is a free Pinterest video downloader online tool. You can also download Pinterest Images and Gif directly to your computer, tablet or mobile by using Pinterest Downloader. You can save and download Pinterest Videos in High definition MP4 format and also download Pinterest Images in HD JPG format with PinterestDownloader.com. why we developed Pinterest Downloader? because we noticed that Pinterest does not allow to download videos. Due to which people were facing a lot of trouble in downloading Pinterest videos. Pinterest Downloader is a solution for those who want to download Pinterest videos for the free and easy way.
How to download Pinterest Videos, Images or Gif
Pinterest Downloader is easy-to-use for you. You can easily download videos from Pinterest without any limitations. Also, you do not need any registration or to pay a fee for the download. This tool is completely free. Follow the simple steps below to download Pinterest videos online.
Go to Pinterest and open the video or image or gif which you want to download.

If you are using Pinterest App then tap on ••• icon at the top right corner of the app and tap on copy link. Or if you are using Pinterest on web browser then copy the link from URL bar of web browser.

Paste the video link in the above input box, and Tap on Download button.

You can see the preview of your download and there Download button just below it.

Tap on the Download button Pinterest video or image or gif will be download to your device.
Frequently Asked Questions
Do I need to register an account to download videos?

No, you do not need an account to download videos or images or Gif.

Is PinterestDownloader safe for my device?

Yes, Our first priority is our user's safety. PinterestDownloader is completely safe to download. No virus, No malware

Where is the video saved after download?

When you download videos, they are usually saved in a folder selected by your browser by default. If you cannot find the downloaded videos then follow the instructions given below.

If you are using Windows, then press Ctrl + J on the keyboard to see the download history.

If you are using Mac, then press Cmd + Shift + J on the keyboard to see the download history.

If you're using a smartphone, check your browser's default download path.

Does PinterestDownloader track a user's downloaded video?

No, PinterestDownloader does not store downloaded videos. All videos are hosted on Pinterest servers and we do not store the download history of viewers. Everyone can use this tool anonymously. This Tool is 100% safe for viewers.